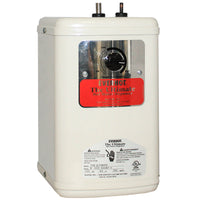 WI- LVH- TANK EverHot Hot Water Dispenser Ultimate Tank Only
Measuring under 13 inches tall and less than seven inches wide, the Everhot Commercial Grade Instant Hot Water Dispenser installs discreetly under virtually any sink for ultimate convenience.
This under counter instant hot water heating tank with adjustable temperature control delivers up to 190 degree hot water from a compact, stainless steel, 3 quart reservoir. Features Heater Protection with self-resetting thermal fuse.
Product Features
A generous capacity of up to 60 cups of water per hour at 190 degrees Fahrenheit.
An insulated 3/4 gallon stainless steel tank, which keeps it energy efficient and maintenance-free.
A thermostat with a self-resetting thermal fuse.
The heater can also be combined with all Everpure and Everhot Hot and Cold Designer Series Faucet.
When combined with an Everpure water filtration system, the hot water dispenser is perfect for enjoying a fresh cup of coffee, tea or hot chocolate, as well as making quick meals like oatmeal, pasta, soups and much more.
DIMENSIONS
Width
7"
Height
13"
Depth
9"
Weight
7 lbs.
* PLEASE BE ADVISED THAT THE FAUCET MUST BE PURCHASED SEPARATELY