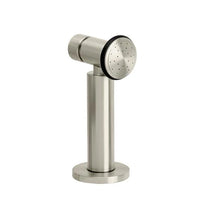 Waterstone Contemporary Side Spray Model# 3025 Stainless Steel
Description
• Works with all Waterstone contemporary Kitchen, Bridge and Prep Faucets.
• Ergonomic and fully insulated handle.
• Reaches every corner of the sink.
• No drip spray nozzle head.
• Large spray pattern.
• Made from eco-friendly solid brass or 316 stainless steel.
• Includes mounting base
• PTFE bump guard.
• 48" nylon reinforced connection hose.
• Made in the USA.