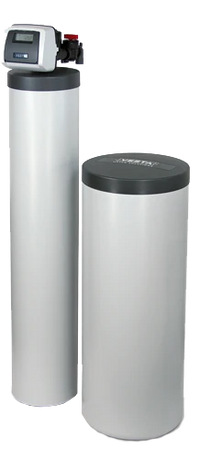 Soft Source Residential Mid- Plate Water Conditioner
Each Soft Source Mid- Plate Conditioner is designed to specifically address the water quality issues that are unique to your home providing your family with outstanding water. Your investment will reward you with quality water at every faucet in your home.

Dual media conditioners are designed to treat chlorine, hardness, tastes and odors in the water. The Mod- Plate tank maximizes the media efficiency with two separate media chambers in one tank. The lower chamber contains the media to soften your water, and the upper chamber has an activated carbon to remove objectionable tastes and odors. Your Soft Source Mid- Plate Conditioner professional water treatment dealer may also utilize this chamber for an alternative filter media to treat your specific water issues. 
At the heart of the Soft Source Mid- Plate Conditioner system is the control valve. The control has been engineered to provide years of trouble-free service. The key to the exceptional quality of the control valve is in the state-of-art design. Soft Source Mid- Plate Conditioner solid state microprocessors monitor and self-adjust the regeneration frequency of the system. A battery backup retains all the settings programmed into control valve while the attractive two-toned gray finish makes it a standout among contemporary home appliances. The current inventory is in Black Mineral Tank only. 
KEY FEATURES
Dual media chambers keep media separate for more contact time and efficiency
30% more efficient in water and salt consumption than other conditioners.
Bottom chamber - high quality, chlorine resistant media bed for years of continuous service
Top chamber - Activated Carbon filter media reduces chlorine levels while removing unpleasant tastes and odors. Chlorine removal may also extend the life of the softening resin
A Salt Monitoring System provides a visual alarm when your brine tank needs to be refilled
Your Soft Source Mid- Plate Conditioner water treatment professional may use an alternative filter media to treat your specific water quality issues
Meter monitors and self-adjusts regeneration cycles based on household trend of water consumption
All Soft Source Mid- Plate Conditioner controls feature solid state microprocessors with easy access front panel settings
Double backwash feature offers optimum regeneration, cleaning ability and efficiency
Fully adjustable regeneration cycles - saves salt and water
Days override feature from 1 to 28 days available
Stores system configuration and operation data in non-volatile memory
Treated water regenerant refill - uses soft water to refill the brine tank to keep unwanted contaminants out of the control
Easily programmed for optimum performance by your Soft Source Mid- Plate Conditioner installer
Extended lithium battery backup
Advanced history and diagnostic screens