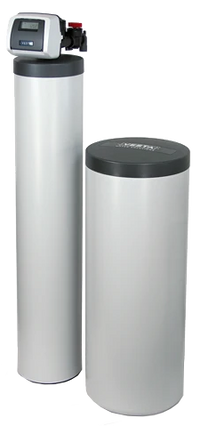 Soft Source Water Softener
Soft Source water softener is designed to specifically address the water quality issues that are unique to your home providing your family with outstanding water. Your investment will reward you with quality water at every faucet in your home.

This system is designed to treat hardness in the water. The main filtration media is US made with a highest quality product to soften your water. 
At the heart of the Soft Source softening system is the control valve. The control has been engineered to provide years of trouble-free service. The key to the exceptional quality of the control valve is in the state-of-art design. Soft Source solid state microprocessors monitor and self-adjust the regeneration frequency of the system. A battery backup retains all the settings programmed into control valve while the attractive two-toned gray finish makes it a standout among contemporary home appliances.
Your professional Soft Source water conditioning dealer is trained and dedicated to providing the best solution for your home and for your family.
 MEDIA BED
High quality, chlorine resistant media bed for years of continues service.
Uniform bead size and distribution for optimum flow rates
CONTROL VALVE
Visual Low Salt Alarm alerts when it is time to add salt to the system
Water use is monitored for peak efficiency
Built in backup of settings during power outage
Regenerates only when necessary, saving salt and water
Simple diagnostics and design provide for easy maintenance
Treated water regenerant refill yields high quality recharge of bed  
MID-PLATE STYLE DISTRIBUTION TANK
Delivers evenly distributed and high-quality flow
Large surface area of plate yields lower pressure drop over time
Up to 30% less water is required for backwash flow rate…. conserving water
High flow design maximizes today's high efficiency valve technology
Dual media chambers keep media separate for more contact time and efficiency
Most efficient softening regeneration, reducing salt consumption
Systems larger than 10" do not include tank jackets
HIGH QUALITY BRINE TANK
High Quality, Durable Construction
Safety float system helps prevent overflow of the brine tank
Constructed of corrosion- free materials
Large brine tank sizes available in black