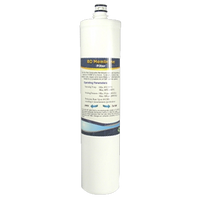 Reverse Osmosis Membrane that can process up to50 Gallons Per Day.

50 GPD membrane provides consistent and reliable system performance.

Membrane Type: Polyamide Thin-Film Composite.
Item Weight: 7.3 ounces
Item Package Quantity:1
Filter Life: replace once every 2-3 years based on water quality in your area
NOTE: DO NOT use with water that is microbiologically unsafe or of unknown quality without adequate disinfection before or after the system. It is essential for proper operation that the user follow the recommended maintenance and filter change – out schedule provided in user manual.