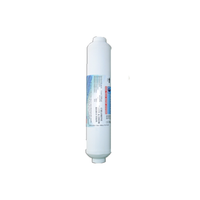 FINAL POLISHING FILTER 
This carbon filter is made of high quality activated carbon. It reduces chlorine taste and odors, as well as conditions the water before it is treqated by reverse osmosis membrane. 
NOTE: DO NOT use with water that is microbiologically unsafe or of unknown quality without adequate disinfection before or after the system. It is essential for proper operation that the user follow the recommended maintenance and filter change – out schedule provided in user manual.