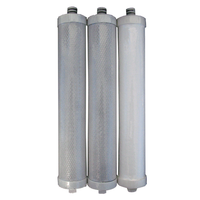 NOTE: Please be advised that based on our supplier availability, the actual filters might be different from image shown on our website. 
The package contains the following filters:
- Linis Sediment 1 micron 
- Linis Pre- Carbon Blocks
To ensure high quality drinking water, basic filters are recommended to be changed once every 6-12 months and reverse osmosis membrane once every -two three years.
NOTE: DO NOT use with water that is microbiologically unsafe or of unknown quality without adequate disinfection before or after the system. It is essential for proper operation that the user follow the recommended maintenance and filter change – out schedule provided in user manual.