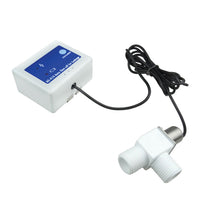 SPECIFICATIONS Operating voltage : 9V DC Supply current: Typical 1.0 mA, maximum 15.0 mA. Cable length: 60" Inlet/Outlet direct connect: 1/2" MPT (male pipe thread) Inlet/Outlet adapter: 1/4" or 3/8" quick connect Sensor size: 2.125"(L) x 2.75"(W) x 1.25"(H) Environment temperature : 33ºF to 140ºF Maximum pressure : 87psi Body material: Polyoxymethylene (POM) Standard warranty: One-year limited warranty for Stop the flood! Faucet water inlets and filtration system valves could fail at any time. Kitchen flooding often happens without warning and can cause substantial flooding and property damage if nobody is around to stop it. Waterstone's Safety Valve Leak Detector automatically shuts off the water source when it detects moisture. Once the valve shuts off, the unit sounds off with an audible alarm, like a smoke detector, to let you know of a problem. The unit doubles as a standard shut-off for water filter cartridge replacement and is easy to install.
SPECIFICATIONS
Operating voltage : 9V DC
Supply current: Typical 1.0 mA, maximum 15.0 mA.
Cable length: 60"
Inlet/Outlet direct connect: 1/2" MPT (male pipe thread)
Inlet/Outlet adapter: 1/4" or 3/8" quick connect
Sensor size: 2.125"(L) x 2.75"(W) x 1.25"(H)
Environment temperature : 33ºF to 140ºF
Maximum pressure : 87psi
Body material: Polyoxymethylene (POM)
Standard warranty: One-year limited warranty for product defects in material and workmanship