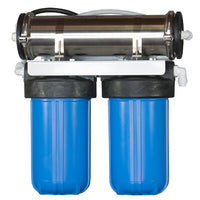 HydroGrow 400 commercial reverse osmosis systems is engineered for high performance, safety and durability. It is constructed of select premium components to ensure highest quality and clean drinking water for our customers. Perhaps, Aquatron, Inc is one of the fewest companies which still uses U.S. manufactured parts and components to offer our customers reliable and trouble free drinking water systems. By using U.S. made product we guarantee you a system free from water leaks, malfunctions or bad water quality.  
The HydroGrow 400 is equipped with a 400 gallons per day reverse osmosis membrane. Water waste is a big concerns for most people and all reverse osmosis systems waste water. A traditional reverse osmosis membrane waste anywhere 4-6 gallons of water to produce one gallon of filtered water. This system is built with 2-1 ratio reverse osmosis membranes which waste only two gallons to produce one gallon of filtered water. This huge water saving ads up in a long run and saves money and environment.
By purchasing one of our products, your investment is safe and you are also backed by Aquatron's over 32 year experience in water filtration industry.
SPECIFICATIONS
System Capacity: 400 GPD @ 60 psi When Systems At 77 °F water temperature*
(Filtered water production estimated to be around 200-240 gallons per day)
Get up to estimated 400 gallons per day of clean and chemical free RO water 
Produces 95-98% pure water using big blue sediment & carbon pre-filters and a commercial TFC-400GPD membrane
Mounted on epoxy powder coated metal frame and uses U.S. MAde quick connect fittings
Connection Size: ½" inlet/ Outlet
Operation Water Pressure: 75-85 PSI
Feed Water pH: 2.0 -11.0
Feed Water Temperature: 40-100 °F
Max Total Dissolved Solids: 2000 PPM
Non pressurized tank is not included
This system is designed for non-pressurized tank and must be turn off manually after the water storage is full.
*The water production amount from AQUA-LC system depends on the input water pressure, temperature, and water TDS (Total Dissolved Solids). The higher your input water pressure and temperature, the higher the filtered water production output. 
HydroGrow 400 IS CONSIST OF
1 St Stage: High-Grade 5 micron 20" high-capacity polypropylene sediment filter —removes dust, particles, and rust.
2nd Stage: Premium Extruded Carbon Block 5 micron 20" —removes chlorine, odor, organic contaminants, pesticides, and cysts and VOS's to extend membranes life.
3rd Stage: High Rejection TFC Reverse Osmosis Membranes — Remove up to 99.9% of most chemicals, dissolved solids, metals, bacteria, and viruses.
This item is a special order, please allow 7-10 business days for the  assembly and delivery time.