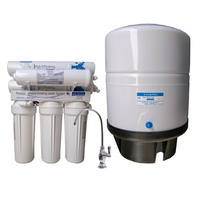 GQM 150-121 reverse osmosis systems is engineered for high performance, safety and durability. It is constructed of select premium components to ensure highest quality and clean drinking water for our customers. Perhaps, Aquatron, Inc is one of the fewest companies which still uses U.S. manufactured parts and components to offer our customers reliable and trouble free drinking water systems. By using U.S. made product we guarantee you a system free from water leaks, malfunctions or bad water quality.  
This system is one the only systems in market that is equipped with Catalytic carbon Chloramine (Chlorine+ Ammonia) removal filter. This system is perfect to be used within most cities in Los Angeles County area due to presence of chloramine.
The GQM 150-121 is equipped with two 75 gallons per day low waste reverse osmosis membrane. Water waste is a big concerns for most people and all reverse osmosis systems waste water. A traditional reverse osmosis membrane waste anywhere 4-6 gallons of water to produce one gallon of filtered water. Our system is built with 1-1 ratio reverse osmosis membranes which waste only one gallon to produce one gallon of filtered water. This huge water saving ads up in a long run and saves money and environment.
Our light commercial products have been helping new businesses by eliminating the constant cost of unnecessary premature maintenance and services. We also custom made any filtration you desire for your specific water filtration needs. Our filter cartridges have high quality capacity to remove /reduce all the chemicals and unwanted elements you wish to remove/reduce in your tap water.
By purchasing one of our products, your investment is safe and you are also backed by Aquatron's over 32 year experience in water filtration industry.
SPECIFICATIONS
System Capacity: 150 GPD @ 60 psi When Systems At 77 °F water temperature*
(Filtered water production estimated to be around 120-130 gallons per day)
Tank Capacity: 14 gal (About 5-8 gallons of water storage capacity)
Connection Size: 3/8" inlet/ Outlet
Operation Water Pressure: 40-80 PSI
Feed Water pH: 2.0 -11.0
Feed Water Temperature: 40-100 °F
Max Total Dissolved Solids: 1500 PPM
System Dimensions:   RO System:             16" L x 8" W x 19" H        
                                                Tank:                     16" D x 16" W x 22" H
*The water production amount from AQUA-LC system depends on the input water pressure, temperature, and water TDS (Total Dissolved Solids). The higher your input water pressure and temperature, the higher the filtered water production output. 
GQM 150-121 FILTERS AND PARTS
1 St Stage: High-Grade 5 micron 20" high-capacity polypropylene sediment filter —removes dust, particles, and rust.
 2nd Stage: Premium Extruded Carbon Block 5 micron —removes chlorine, odor, organic contaminants, pesticides, and cysts and VOS's to extend membranes life.
3rd Stage: Premium Catalytic Carbon Block 1 micron —removes chlorine, chloramine, odor, organic contaminants.
4th Stage: High Rejection TFC Reverse Osmosis Membranes — Remove up to 99.9% of most chemicals, dissolved solids, metals, bacteria, and viruses.
5Th Stage: 12" Advanced Coconut Shell Carbon —removes any residual impurities and odors from the tank.
Tank: 14 Gallons capacity high quality pressurized tank.
INATALLATION PARTS
Lead-Free, long reach faucet, Food Grade tubing, and Complete Installation Hardware which includes feed water valve, drain saddle valve, and Teflon tape.
This item is a special order, please allow 7-10 business days for the  assembly and delivery time.