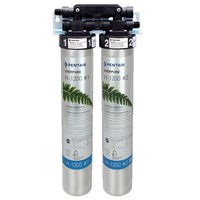 Everpure H-1200 Drinking Water System
Combat the most contaminants with the Everpure H-1200 series, which delivers healthful, clean water every time. Designed with the unique Micro-Pure technology, the H-1200 reduces the following contaminants:
Lead to below the Federal Action Level of 15 ppb

NSF/ANSI Standard 53 certified to reduce cysts such as Cryptosporidium and Giardia by mechanical means.

Volatile Organic Chemicals (VOCs), including THMs
MTBE
As well as the following substances:
Chlorine taste and odor
Chloramine taste and odor
Dirt and cloudiness
Mold and algae
Oxidized iron
Oxidized manganese
Oxidized sulfides

Reduces particles as small as 0.5 micron in size by mechanical means.