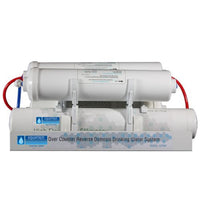 Access to fresh and clean drinking water can't get easier than this. This compact and powerful compact reverse osmosis drinking water system is your answer to clean water if you are on the go or don't mind a little clutter on your kitchen counter for a short time. You will experience bottle water quality taste from your kitchen tap using this system. It will remove sediment, dust, rust, mud, chlorine, chloramine, unpleasant tastes, odors, and up to 99% of harmful contaminants to produce clean and refreshing water for you and your family members. This system is answer to your clean water access if living in a school dorm, rental property, camp sites available to portable water, or hotels.  This system drastically will improve the flavor of coffee, tea, and ice cubes.
PLEASE KEEP IN MIND THAT THIS SYSTEM IS ONLY:
Compatible with Standard Faucets. Pull-down faucet, special size designer faucet and sprayer faucet are not compatible to work with this system.
SPECIFICATIONS:
- Compatible ONLY With Standard Faucets. Will Not Work With other designer, pull-down, special --nonstandard faucets, and faucets with built in spray.
- Unlimited water production, rated for 75 gallons per day
- Equipped with a low waste membrane
- Faster production with less water consumption compare to traditional RO membranes
- Systems Built With high quality US MADE Filters and components
- 4 Stage easy maintenance system, service timROe under two minutes 
- No Installation, Just Plug & Drink
- Weights about 7 lbs, ideal system for people who love to take their water wherever they go
- Backed with our 32 industry experience and customer service