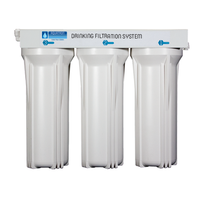 The AQUA-B 3 Stage Water Filtration System delivers great tasting drinking water at an affordable price. This complete 3-stage water filter system is made from high quality U.S. Made components to offer reliable performance with continues great tasting water. The high quality filters lasts about 9-12 months based on the water quality and consumption. This system offers demand supply of quality filtered water directly to your drinking faucet.
SYSTEM FEATURES:
System Built With US MADE Super Capacity Filter For Long Lasting Dependable
Filtration NSF Certified Filters Guaranteeing To Remove Chemicals, Taste and Odors
Used To Treat Tap Water, Well Water. Provide Unlimited Refreshing Water
System comes with 100% Lead-Free Chrome Faucet, quick connect fittings, and hassle free angle valve
First Stage
High-Grade 10" high-capacity polypropylene sediment filter -removes dust, particles, and rust. 100% pure polypropylene depth filter with exceptional dirt-holding capacity translates to longer life and fewer change-outs than existing string-wound or resin-bonded filters. US MADE
Second Stage
Premium Extruded Carbon Block 10" -gets rid of unpleasant chlorine, tastes, odors, cloudiness and colors. Also removes VOCs and other common chemicals from the water. US MADE
Third Stage
Premium Catalytic Carbon Block 10" - further removes chloramines and chlorine  tastes, odors, and other common chemicals from the water to provide great filtered water.
Specifications:
Feed Water Pressure: 20-80 psi
Feed Water Temperature: 40-100 °F
System Dimension: 15"w x 6"d x 12"h
Package Weight: 13 LBS