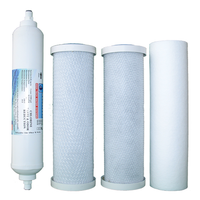 NOTE: Please be advised that based on our supplier's availability, the actual filters might be different from the image shown.
The package contains the following filters:
 - Sediment 1 micron 
 - 2 X Carbon 5 micron 
- Final Polishing 
To ensure high quality drinking water, basic filters are recommended to be changed once every 6-12 months and reverse osmosis membrane once every three years.
These products are only for use with the Aquatron AQM-550 filtration system.