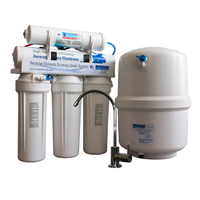 GQM 121-75 Low Waste Reverse Osmosis System
Wonderful system for home owners and environmentalists. This system is doing its part to conserve water for Southern California drought. Introducing our most advanced reverse osmosis system to date. This system operates at an industry leading one to one ratio production, whereas traditional reverse osmosis systems waste about 4 to 8 gallons of water depending on incoming water pressure.
Easy and fast installation, combined with a 75 gallon per day membrane for a continuous supply of water, makes this system the ultimate water purifier for home owners. This system is also one of the only products in the market equipped with a Catalytic Carbon chloramine removal filter. Currently, most cities and counties are using chloramine to disinfect the water supply which is not easily removed by traditional reverse osmosis systems. This system has larger filter cartridges, providing increased and effective contact with your tap water. 5 Stage System backed by Aquatron's more than 27 years of experience and quality.
DOWNLOAD BROCHURE

DOWNLOAD INSTALLATION DIAGRAM