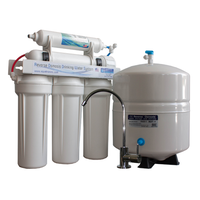 50GPD Reverse Osmosis Water Filtration System - Made in the USA - AQM-550
Designed and built in the USA, with about 80% made in USA parts, this system utilizes five separate stages to treat your water down to ultimate purity. Using only the finest materials and craftsmanship, your AQM Series Reverse Osmosis System will provide you with unlimited, clean, fresh, and great-tasting purified water at your sink, or even at your refrigerator's ice maker (optional kit available). This system is a great alternative to bottled water or bulky coolers, costing less than a few pennies per gallon! All our reverse osmosis systems remove up to 99% of contaminants from your tap water, including chlorine, fluoride, lead, arsenic, chromium, and bad tastes and odors. With Aquatron, you can rest assured that any technical issue or concern you might have with the product will be fully supported.
System Features:
5 Stage Reverse Osmosis System
Up to 50GPD (Gallons Per Day) production
Double o-ring connections
Free upgrade to designer brushed nickel faucet
Can be upgraded to faster production rate
Can be equipped with UV light
Easy installation (full color manual available below)
The Aquatron Advantage
When you purchase an Aquatron RO system, you're not just purchasing a piece of equipment. With it comes years of expertise, ethical business, and a commitment to our customers. We make it a point not to use cheap materials from overseas in the construction and assembly of our systems. Any imported material must stand the test of time. As such, we only use materials with well established track records. Aquatron, founded in 1986, has been providing quality products and services for almost 30 years. Our staff consists of more than 50 years of collective experience in the industry, which transfers over into providing top notch and accurate information to our customers for all their water filtration or water softening needs.
Note: Aquatron filters need to be changed only once a year (once every 2-3 years for the membrane) rather than every 6 months for comparable systems. This is because we use only high grade material which is also denser and thicker, allowing the filters to retain their performance and efficacy for up to twice as long as most of our competitors.
For installation or service, call us at (818) 500-4090
---
Specifications:
Operating Temperatures: Maximum 100°F (37.8°C) Minimum 40°F (4.4°C)
Operating Pressure: Maximum 80 psi (5.90 g/cm2) Minimum 40 psi (2.80 kg/cm2)
PH Parameters; Maximum 11 Minimum 2
Iron: Maximum 0.2 PPM
TDS (Total Dissolved Solids) <1800 PPM
Turbidity: <5NTU
 Dimensions (L x W x H):
System - 14" x 6" x 13.5"
Tank - 11" x 13"