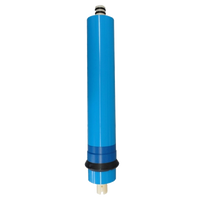 This semi permeable membrane effectively reduces TDS and sodium as well as a wide range of contaminants such as Arsenic, Lead, Percholate, Chromium, Copper, Radium and Protozoan Cysts including Giardia and Cryptosporidium.  The heart of your Reverse Osmosis system reducing impurities down to 1/10,000 of a micron.
Specifications:
Water Production: 50 GPD (Gallons Per Day)
Filter Rating: 2-3 Years*
Flow Restrictor: 500ml (Sold Separately)
*Note: Membrane life may vary based on local water conditions, use patterns, and frequency of filter changes.